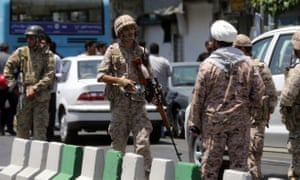 ran's Revolutionary Guards have blamed Saudi Arabia for the first terrorist attack claimed by Islamic State in their country, setting the stage for spiralling tensions between the two rivals at a critical moment in the region.

At least 12 people were killed and dozens more injured in Tehran on Wednesday when gunmen and suicide bombers attacked the Iranian parliament and the mausoleum of the revolutionary founder of the Islamic Republic.
Isis claimed responsibility for the attacks, publishing a brief video that purported to show the assailants inside the parliament.
The Revolutionary Guards blamed Riyadh for the attack, in a move that could further raise the stakes in a regional tussle that has already led to major diplomatic upheaval among the Gulf monarchies in recent days and the isolation of Qatar over, in part, its perceived closeness to Iran.
"This terrorist action, coming one week after the meeting of the president of the United States with the leader of the one of the region's reactionary governments [Saudi Arabia] … shows they are involved in this savage action," the IRGC said in a statement.
The Iranian president, Hassan Rouhani, said the attacks would make the country more united. "Today's terrorist attacks in Tehran will make the Islamic Republic of Iran more determined in the fight against regional terrorism, extremism and violence," he said in a statement published on the ISNA news agency. "We will prove once again that we will crush the enemies' plots with more unity and more strength."
The assault on the parliament began when four men armed with rifles burst into the building complex. One of the attackers reportedly blew himself up inside as police surrounded the building.
Gunfire could be heard from outside as police helicopters circled overhead, entrance and exit gates were closed, and contact with mobile phones inside was lost.
"I was inside the parliament when shooting happened. Everyone was shocked and scared. I saw two men shooting randomly," one journalist at the scene, who asked not to be named, told Reuters.
MPs continued scheduled sessions in another part of the complex. The deputy interior minister, Mohammad Hossein Zolfaghari, told Iran's state TV that the attackers were dressed as women in order to gain entry.