35th America's Cup in Bermuda
Play-offs: 4-8 June & 10-12 June America's Cup: 17-18 & 24-27 June
Race coverage: Watch highlights on BBC Two, Red Button, Connected TVs, online and BBC Sport app from 11 June.
New Zealand suffered a spectacular capsize in their America's Cup semi-final against Great Britain but lead the best-of-nine series 3-1.
The catamaran fell forwards on the run-in to the start, leaving some crew suspended in the hull above the water.
Three were thrown overboard but all of New Zealand's crew were accounted for.
"In 30 years of racing I've never seen anything like that," said Sir Ben Ainslie, skipper of GB's Land Rover BAR boat which was awarded its first win.
"Most importantly everyone is fine. It's the first time we have sailed in this much wind. It's full-on and it's mind-blowing.
"All of us sitting here are not going to pass criticism - these boats are incredibly hard to sail and these things can happen."
In high winds in Bermuda, the Kiwi boat rose rapidly on its hydrofoils and appeared to lose control before its bows plunged into the water and the boat flipped sideways.
The British boat was black-flagged and support crews began the process of righting the Kiwi catamaran.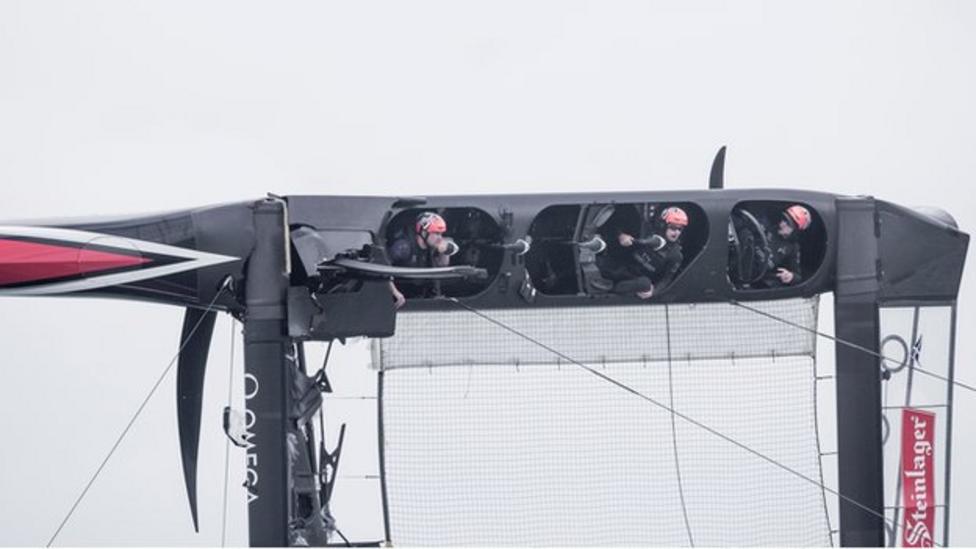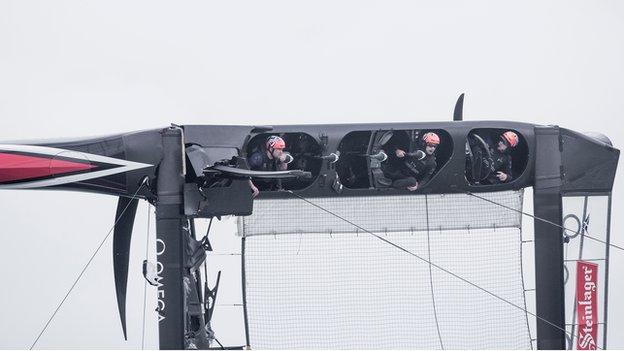 Bruises and cuts and bits and pieces
"I was very thankful when I was sitting up top to be able to look out back and see all their heads above water," said New Zealand helmsman Peter Berling, one of the crew left on board during the crash.
"We've all got a few bruises and cuts and bits and pieces, but nothing major."
He said the capsize was "was fully our error" as the crew were "trying to get off the start clean", but also said there were no injuries.
Burling, though, believes the "fair bit of damage" to the AC50 - which appeared to include a top section of the wing smashed - was repairable and expects to be able to resume racing should it go ahead on Wednesday if the weather conditions permit.
However, stronger winds are forecast for Wednesday and could lead to a postponement of races.
In the other semi-final, Japan recorded two more race wins over Sweden to lead 3-1.
The first team in each semi-final to win five races progresses to the challenger final for a chance to take on the American team.
Defending champions USA advanced automatically to the America's Cup matches and they will have a one-point lead over their challengers after topping the qualifying group.
Great Britain began the day trailing 2-0 after suffering a broken wing on the first day of their semi-final against New Zealand.
The British boat were forced to retire from the first race, before forfeiting the second.